Classrooms participating in the Opera Creation Program have the unique opportunity to collaborate with professional artists while creating their own opera. Choose to connect the story to a particular curriculum focus, explore a social issue or element of character education, or have students choose their own theme. Students will be engaged in the process from the beginning, becoming composers, librettists, designers, and then performers in their own 15-minute opera. Additional elements, including a visit from an opera singer, are available for an additional fee.

This program is designed for one class to create an opera from start to finish. Multiple classes can each create their own opera and present them together – a great idea for an end-of-year Music or Parents' Night or graduation event!
Grades: K – 12
Cost: Starts at $1200 for a six- to eight-week residency
Applications: Email education@coc.ca or call Madelyn Wilkinson, School Programs Manager at (416) 306-2392 for details on how to apply.
Curricular Connections
Visual art & design

Careers in music, drama, and visual arts

Dramatic performance as an individual and in an ensemble

Musical performance as an individual and in an ensemble

Elements of a story, creative writing and language

Connect the opera to your work in character education, social studies, or other curricular areas!
Complete an inquiry form online, or call Madelyn Wilkinson, School Programs Manager at 416-306-2392.
SAMPLE SCHEDULE AND ACITIVITIES
Weeks 1 & 2: Libretto Writing
A professional librettist comes into your classroom to introduce you to the basics of opera, as well as the components of a strong story. Starting from scratch or with a specific theme/curricular focus in mind, the class will brainstorm with the librettist and learn about characters, plot, conflict, and start to think about the rhythm of the text. The librettist will visit your classroom three times, and some writing will be required in-between visits.
Above: A piece of the libretto in-progress at Queen Victoria P.S.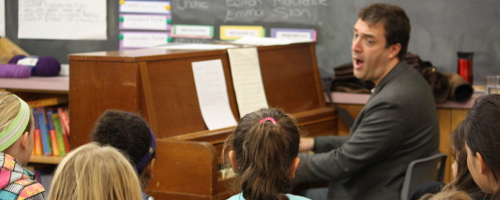 Weeks 3 & 4: Composition
An opera composer is the next visitor to your class. This composer will work with the students to collaboratively write the music for three to four arias (songs) and/or choruses. The class will learn music theory relevant to their grade level, various styles of music, rhythm, and how music enhances the drama and storyline of their opera. Approximately one week after the composition sessions have been completed, you'll receive both the sheet music and a recording of the music without vocals, to allow students to practice in-class and at home. The composer will work with your class four times.
Above: Composer and artist-educator Dean Burry works with students at Bennington Heights E.S.
Week 5: Design
Now that your opera is written, it's time to figure out what it will look like! A designer will visit your classroom to discuss elements of design and how they work with directors to create the set, props, and costumes for an opera. The designer will bring basic ideas for each of these aspects with them, and students will create the design elements using items in the classroom, materials brought by the COC, and their own creativity! The designer will work with your class twice. (Items will be stored in the classroom or another suitable area until performance time.)
Above: Students at Lescon P.S. designed a castle and two coats of arms for their tale of medieval betrayal.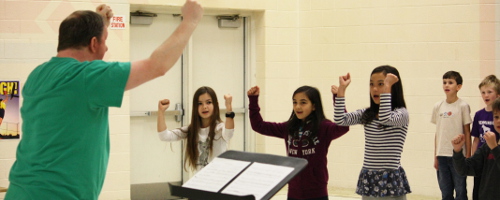 Weeks 6 & 7: Directing
In weeks six and seven, the class members transform into performers! A professional director visits the class to help them hone their acting skills – memorization, blocking, character development, projection, and movement. Before the director arrives, students should know what role they will be playing and have most of their lines and music memorized. The director will visit your class four times, and will also be present for the dress rehearsal and final performance. An accompanist will be present for two of these rehearsals, as well as the dress rehearsal and final performance.
Above: ​Director, choral director, and artist educator Markus Howard directs students at Bennington Heights E.S.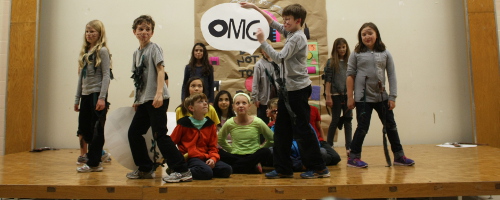 Week 8: SHOWTIME!
All of your hard work has been leading up to this! Present your completed 15-minute opera to fellow students, or family and friends. Or have a more process-based experience that ends at a dress rehearsal or a performance for a small group of invited guests - it's up to you!
Above: The performance of Ahead of Time, by grade five students at Bennington Heights E.S.
---
Students at Bennington Heights P.S. in a performance of ​Ahead of Time​, their original opera. Photo: COC, 2013